Enjoy Real-Money Bingo for Windows Phone
Microsoft-powered phones may not be the most popular devices these days but they do offer slick interface and fast operating system. Those are aimed at the smartphone market to compete with Apple and Android. If you have one, you've probably learned to your cost about the lack of bingo games available for those handsets. However, with the ever growing popularity of mobile bingo, more and more providers put efforts into optimizing their mobile sites for Windows.
It is slightly harder to apps compatible with this mobile phones, though not impossible. We've spent some time searching for some good ones and selected the top operators which offer bingo for Windows. Landmark's takes the biscuit with the free £15 no-deposit bonus and enthralling gaming experience.
Play Landmark bingo on Windows and get a £15 free gift!
Landmark is part of the Live Bingo Network, it is powered by Cozy Games and is one of the few brands to offer an app which is compatible with all types of smartphones and tablets. Not only that, but they've got an amazing newbie offer with bonuses for the first three deposits, free and speed bingo games, the amazing 80-ball shutterboard variant and plenty more.
Mission Accomplished: Top Three Operators on the Market
Landmark Bingo
50-Ball and Speed Bingo
40+ games
£15 No-Deposit Bonus
Landmark
That is definitely a company with traditions and also the first foundation member of Live Bingo Network. Their app is really impressive – not only is it compatible with all types of handsets, but there's a £15 no-deposit bonus to try their games, without putting down any money. On offer is an attractive welcome package with bonuses on the first 3 deposits. With more than 40 games available for Nokia owners, Landmark is proud to offer all bingo variations on mobile, including the rare 50-Ball game and the Speed Bingo, played with 30 Balls. With their extremely easy-to-use lobby, you can switch between the slot and casino tabs and play some side games, too. Landmark bingo app has one weakness, though and that's the impossibility to withdraw within the app. However, we truly hope Landmark work forward to fixing that and allowing their fans enjoy the gaming experience in its entirety.
Bobs Bingo
80-Ball Bingo
£15 Deposit-Free Bonus
a 1150% Bonus Package
Bobs
The site is part of Live Bingo network and utilize a software platform, powered by Cozy Games. You can play it on Windows and still enjoy three different types of the game, including the 75-ball, 80-ball and the classic 90-ball template. They have a firm commitment to mobile gaming, so you can expect the full game selection as seen on the website. Bobs is best known for their stunning promotions, starting with a £15 gift and followed by a 1150% welcome bonus package. What's more, every time you make a deposit of £25 or more, you will get 5% of your money back. You can use your £15 free credit to try their games at the 'Free room' and the 'Free Cash Bingo' or make a deposit and benefit from their bonus offers. Furthermore, you can both deposit or withdraw in the app, using one of the available payment methods. Security here is a major priority and the provider holds a valid licence from the Gambling Supervision Commission of the Isle of Man and is regulated by the UK Gambling Commission.
Little Miss Bingo
6 Play rooms
25 Mobile Slots
£20 No-Deposit Bonus
Little Miss
That's another great site to play from your Microsoft-powered device which is also powered by Cozy Games. Once you log in Little Miss mobile with your usual details, you'll be taken to a neat, easy to navigate lobby with 6 rooms. You can enjoy the 90-ball and 75-ball classics or the less popular but very exciting 80-ball game. The great thing about Little Miss is that once you register, you will get £20 to get the feel of it as well as a 1150% bonus on your first 3 deposits. Fans of slot games may try their extended collection of more than 25 titles. What's also great is that you can deposit and withdraw from your phone, unlike the majority of bingo apps, where you can deposit but should login the desktop version to request your winnings.
Love Playing While on the Go? Learn How to Choose the Right Place!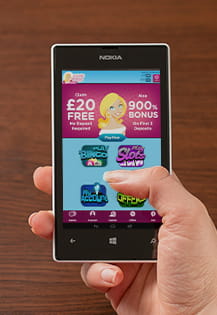 Compatibility. Windows has always been a synonym for the PC operating systems but when it comes to mobile, things are slightly different. In the constantly growing mobile market, Microsoft phones have dropped behind their main competitors, iOS and Android. That means that these who have Nokia any Windows-powered device, will be denied the opportunity of playing many bingo apps . If you 're one of these players, device and you're looking for a bingo app, you should first check if it's compatible with your device and probably you should opt in to the web app. This means that when you should play the games as you'd normally do on your PC, you just have to use your mobile Internet Explorer browser.
Mobile Software Characteristics. There's not much you should know if you want to play bingo on Windows. This OS is quite simple to use and doesn't require any skills at all. Well, there's one thing you should know – unlike iOS apps, for example, which you may download from the Apple App Store, here you're limited in choice. There's the Microsoft App Store but the majority of bingo apps here are either just for fun or not worthwhile. To start playing, you should use the in-built Internet explorer browser and navigate to the preferred bingo site.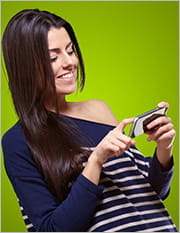 Read our reviews. Before you start playing Windows bingo, do make a research for the best offers on the market. We know it's not easy to find a decent bingo app, especially a good one which works on Windows, but before you go playing, at least pick and choose the market carefully and read some reviews. On our website, you will find detailed information about the best bingo apps, depending on your type of smartphone and we will help you choose a good offering – with fine welcome bonus, a wide game range and secure payment operations.
Why We Think You'll Love It?
The Perfect Playability – If you want to play bingo on the move and you happen to be an owner of a Windows-powered device, you should definitely give it a try. Those smartphones boast large displays and fast operating systems, which is a key factor if you look for a smooth gaming experience. Despite the fact that most of these smartphones run Xbox games, they still provide crystal clear resolution and extreme-quality graphics compared to other smartphones. Unlike other phones, these hand sets rarely crush and provide users with stability, while playing in the apps. The smartphones have perfect display size which is not too small, but still not too big. Thanks to its fantastic display, you will enjoy clear graphics and optimum play area, without any risks of mistakenly pressing a wrong button, while playing bingo games. They offer relatively wide playing area and are very portable and can be easily carried around.
The Gaming Experience – With Windows you will get the typical bingo play with all the perks as if you played at any other device. Here you can do pretty much everything you are used to on the desktop version of the site, including signing up, depositing, playing and where it's possible – withdrawing your winnings. Basically, it is no different than Android or iOS, for example. There's the in-built Internet Explorer, so say you want to play bingo, you just open the browser, log in the site with your credentials and start playing. As easy as pie! Internet Explorer eases mobile browsing with its constantly updated features, including the possibility to open several tabs at the same time, self-adjustable coding, etc. Plus, if you have a Windows, you can easily drag and drop files between your computer, tablet and and smartphone.
Promising Future for Windows – They lagged behind their main competitors Android and Apple but still become more and more popular, with plenty of new releases. We see more and more bingo providers who optimize their apps to run properly on Windows. For example, Wink Bingo is already working under their mobile version. It should be soon available for use and promise the users amazing bingo experience as usual. We strongly believe that there are many other operators that will follow Wink's example and will adjust their mobile platforms to work on this OS. Overall, Windows smartphones have been created with the gamers in mind and are the perfect choice for playing games on the move.
Android, Windows or iOS: Which One You Should Play at?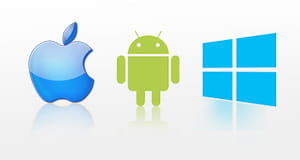 That's probably one of the most frequently asked questions. As we have tried playing bingo on different OS devices, there's no definite answer. Not that Windows smartphones are better than Android and iPhones but there are some areas where they definitely beat their competitors.
Great Gaming Performance – Well, Windows App Store may lags behind the Play Store or the Apple App store when it comes to quantity but it responds with better-looking graphical elements, faster processors and unbeatable resolution. If you play Windows bingo, chances are your display to freeze (something that Android players complain a lot about). Once you try an app on Microsoft OS, you will be amazed by the smoothly-running games even with some low-end releases.
Compatibility – Android devices comes in many shapes and forms, while Windows mobile phones follow the same minimalist design and shape. Plus, Androids have different UI, depending on the manufacturer, so say a Motorola phone will be completely different from Samsung or Sony. You can easily switch between different Windows-powered devices without struggling and to get used to different interface and systems. Therefore, it will be easier for you to play bingo – you won't waste time and energy on searching for this and that and will be able to concentrate on playing your favourite games.
Snappy Keyboard – The devices have extremely snappy keyboard which is very convenient when chatting with your friends while playing from your mobile. Regardless of the device, Windows are popular for having the snappiest keyboards, so it's very suitable for these bingo players who'd rather socialize and make some new friends while playing bingo from mobile.
Expandable Storage – The majority of devices (even the entry-level ones) have at least 8GB of internal phone storage and you can top it up as microSD cards are supported. You can increase your internal phone storage up to 64GB. This allows you to download more apps, so you'll have more free space for apps. As a result, you will no longer have to check whether you have enough space or if you have to delete one favourite app in order to to get a new one. You can have them all!
Affordable and Good Looking – Unlike the expensive iPhones and Androids, Windows smartphones are quite affordable. You get a nice-looking phone, which is powerful and offers great gaming experience on a decent prize. Since bingo games are attractive to more and more players and Microsoft smartphones are not expensive at all – you don't have to spend money like water to have it in the palms of your hands.
Curious Facts About Windows Smartphones
Device
Release Date
Dimensions
Weight
Info about Microsoft
Nokia Lumia 930
4 July, 2014
5.39 in/ 2.8 in/ 0.39 in
5.89 oz
Developer:
Microsoft Corporation
HTC Windows Phone 8s
December, 2012
4.74 in/ 2.48 in/ 0.4 in
3.99 oz
Founded:
New Mexico, 4 Apr 1974
Nokia Lumia 735
4 September, 2014
5.3 in/ 2.7 in/ 0.35 in
4.74 oz
Founder:
Bill Gates, Paul Allen
Nokia Lumia 520
22 April, 2013
4.72 in/ 2.5 in/ 0.39 in
4.4 oz
Employees:
128,076 (2014)
Nokia Lumia 1520
November, 2013
6.41 in/ 3.36 in/ 0.34 in
7.37 oz
Traded as:
NASDAQ: MSFT
Microsoft Lumia 535
November, 2014
5.52 in/ 2.85 in/ 0.35 in
5.15 oz
Revenue:
86.83 billion (2014)