Terms and Conditions
Using this website ('Site') you agree with and accept the present Terms and Conditions ('Terms'). Therefore, read the Terms carefully and thoroughly before using the Site. The Terms apply to all visits and use of the Site and its Content (as defined hereafter). In case you don't agree with the Terms, please leave the Site.
Copyright
The Owner of this Site and all the content on it is BingoMobileApps.com. By Content is meant, but not only, all text, graphics, photographs, images, moving images, sound, illustrations and software appearing on the Site. All elements of the Site including, but not limited to, the general design and the Content, are protected by copyright, moral rights, trademark and other laws relating to intellectual property rights. Except where explicitly permitted by the Owner in advance and in writing, no part or element of the Site or its Content may be copied or retransmitted by any means and the Site, its Content and all related rights shall remain the exclusive property of the Owner.
For the purposes of the present Terms, the use of any such material on any other website or networked computer environment is prohibited.
Disclaimer of Warranties
The Site and its Content is provided 'as is' and without any warranties, whether express or implied, including but not limited to, implied warranties of satisfactory quality, fitness for a particular purpose and non-infringement, to the fullest extent permitted by law. The information on the Site is for general information purposes and does not give any prescriptions. The Owner does not represent or warrant that the Site will be uninterrupted or without errors.
Limitation of Liability
Your use of the Site is at your own risk. The Owner will not be liable for any damages – direct, indirect, special, consequential or other, which may occur from the use of, or the inability to use, the Content on the Site, including damages caused by viruses. Such damages may include, but are not limited to: a) loss of data, b) loss or revenue or anticipated profit, c) injury to reputation, and d) losses suffered by third parties. You acknowledge and agree that you assume full responsibility for that.
Liability for Third-Party Content and Links
For your convenience there are links to websites owned by third parties provided at times. They are beyond the Owner's control. The Owner is not responsible and liable for the content on those sites. You visit/access them entirely at your own risk. You are advised to read their terms and conditions and privacy policy in advance. The Owner is under no legal obligation to monitor third-party information provided on our Site. However, we shall remove any content violating the law if we become aware of it.
Privacy Policy and Data Protection
The Owner of this Site respects the privacy of every visitor. The Owner will not collect any personally-identifiable information about you (e.g. your name, address, telephone number or email address ('Personal data') unless you provide it voluntarily. Your personal data is protected under the Data Protection Act 1998 and the Privacy and Electronic Communications Regulations 2003 and EU Directive 2002/58.
Use and Sharing of Information
When you provide us with personal data, we may use that information in the following ways, unless stated otherwise: we may store and process that information to better understand your needs and how we can improve our products and services; we (or a third party on our behalf in connection with a promotion) may use that information to contact you; and/or we may provide other third parties with summary – but not individual – information about visitors to or users of our Site. We may include your questions, comments, opinions, or reviews voluntarily submitted on this Site for others to see. We will also include the name you give us, which is a nickname/user name but not your email address. We do not currently and do not intend to sell, rent or market personal data about you to third parties.
However, personal information may be shared with third parties in some cases. Those include, but are not limited to: a) if we sell part or all of our business or assets; b) if the information is legally requested, or c) if fraud protection makes it necessary.
Responsible Gambling
This Site does not offer gambling services. The Site does not promote gambling to under-age individuals. In order to use the Site, you need to be above 18 years of age. By using it, you declare that you are over that age. Gambling is not a method of earning income. It is highly addictive and could lead to major damages and losses, both material and moral. If you feel that you, or a person close to you is engaging in excessive gambling activity, we advise you to seek professional help. You can obtain more information and advice at www.gamcare.org.uk.
Responsible Company
This Site is constantly being updated and the Owner makes efforts to consider all opinions and respond to all inquiries. Users and readers are free to give us feedback, indicate possible inaccuracies, or suggest new topics. The Owner will try to process all messages as quickly as possible.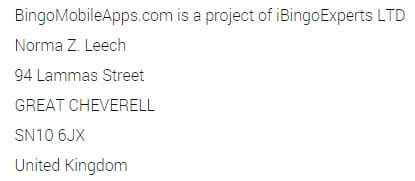 Amending the Privacy Policy Terms
The Owner remains in full right to amend these Terms without prior notice. Users are advised to check this page for changes.