Smooch Bingo Mobile: Easy and Lucrative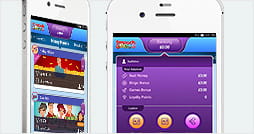 View Our Gallery > At Smooch you will experience the heaven for all mobile bingo lovers: a perfectly developed mobile site that is friendly to all operating systems and screen resolutions. The entire range of games and rooms is there for mobile users to enjoy and a 200% welcome bonus.
Join Smooch Bingo on your mobile now and claim £20 extra to play with!
How to Play on Smooch Bingo Mobile in 4 Steps
The good news is Smooch Bingo features a web-based app, so you will not need to download a whole package of games. When you visit the mobile site, you will have the whole offering before you so you may choose and finally settle down for your favourite games. Then, you can play them any time you want, without the bother to load the whole app and slow down your phone or tablet in the process.
Follow our link to visit Smooch Bingo on your mobile.
Add a bookmark to your home screen.
Register your player account.
Deposit £10 and play with £30.
Mobile Bonuses at Smooch
All players get bonuses, not just the mobiles. Yet, from time to time, the operator will feature exclusive mobile bingo promotions. As of now, a simple tenner will get you 200%, so you will have a total of £30 to play with. Then, all the regular offers will be valid on a mobile, as well.
Screenshots from Smooch Bingo for Mobile
Here are several shots we took of the mobile site you will play on when you join Smooch. There is the registration form, that asks for simple details. You will also see all the available payment options, and what My Account will look like when you have one. Here is also the Money Makers promotions tab. That is one of many promo tabs, to be honest.
Bingo Games for Mobile Users at Smooch
When you join Smooch, you will be able to play 90- and 75-ball bingo. Only these two, but in so many rooms and as part of such cool promotions, that you'll hardly know it's the same two games. You can play BOGOF games and Free bingo every day. The Singles room is dedicated to single players, with low-priced or free tickets, so that players may flirt on the chat. Every half an hour there are Gtd JP games, with guaranteed minimums between £50 and £1,500.
List of Compatible Devices to Use on Smooch Mobile Bingo
Virtually all smartphones and tablets are invited to the party. Yet, you may check the short list here. Android: LG Motion, LG Optimus, LG Viper, Sony Xperia Z1, Sony Xperia Z2, Sony Xperia Z3, Samsung Galaxy S3, Samsung Galaxy S4, Samsung Galaxy Note 3, HTC One, HTC Desire, HTC EVO, Motorola Moto X, Motorola Moto G, Motorola DROID Maxx, Motorola DROID Razr. Some of the Windows devices compatible to play at Smooch are Nokia Lumia 525 series, Nokia Lumia 620, Nokia Lumia 1320, Huawei Ascend W1. BlackBerry is also invited: BlackBerry Passport, BlackBerry Z30, BlackBerry PlayBook are just some of the handsets you may use. iOS is represented strong with all the iPhone models, as well as all iPad models, including the latest iPad Air and iPad mini 3.
Smooch Bingo – Some General Facts
Smooch logo

Owner

Global Personals Ltd

Launched

September 2012

Software

Dragonfish

Licensed by

UK Gambling Commission

Licence No

000-039028-R-319297-0016

Mobile bingo

HTML5

Website

www.smoochbingo.co.uk
Smooch Bingo is the gaming arm of an already successful online dating platform, Smooch Dating. The dating service was acquired by Global Personals Ltd in 2012 and they released the bingo product soon after, using the successful Dragonfish software. Soon after launching the bingo, the company created a position for Head of Gaming and hired Pil-Jeong Oh, who had worked at News International for the last seven years and had been in charge of the Sun and the Fabulous Bingo offerings. One of the greatest challenges before such a new enterprise was the spreading of the new offering to the already existing customer pool. The brand already had a name, so it didn't lack popularity or potential. Incorporating the dating nuance was a clever move, and the company's strong presence on the social networks is a great advantage. This is an interesting combination and one that needs to be watched, for sure.
FAQs
Can I deposit and withdraw on the mobile bingo apps?
Most of the times, you can deposit. Sometimes, you can request a withdrawal, too, although not all operators allow that. For transactions history, however, you need to log in on your PC most of the times. E.g. Smooch bingo mobile will process both deposits and withdrawals, but not show you the payment history.
Can I set limits to my gaming through the mobile bingo app?
Definitely, you can. Operators are obliged by law to provide self-exclusion and self-limit options through all their platforms and channels. Reputable providers offer several limit schemes, depending for how long you want to abstain from playing.
Users' Reviews
I got involved with Smooch bingo through their dating service. I use both sites on my mobile and get all the latest hip offers and gossip. No success on either lane yet, I'm still alone, and haven't won anything massive. But that will change, I know it. Comment by: Amy Fowler
I didn't even know Smooch bingo had a website. I only knew their mobile offering. It's great. They run plenty of free games and lots of BOGOF, plus you can win lots through chatting, too. The Promotions section is a bit odd, but that's cool, I got plenty on my hands there. Comment by: S. Pilsner
Smooch Bingo mobile got you hungry for more? Choose below