Reliable Bingo Reviews To Help You Choose
Nowadays, mobile is everywhere and most of us are hooked to our phones. But where do we find information about which mobile site to play on, which app to download? That was why we decided to create this helpful website. What makes our mobile bingo apps reviews reliable? Well, here are some points:
We check the apps and mobile sites against rigorous standards
We relate techie talk in human words
We make no compromise as to security or quality issues
We love bingo and we like playing it on the go
Use bonus code BEST on Wink mobile app and get your £55 welcome bonus!
What we offer on this website is honest reviews of tested apps and mobile sites. On this particular page you will find more information on topics of general curiosity. You can read about the difference between bingo mobile apps and mobile sites. You will learn which some of the top apps and sites are, and you'll take a peek at what are free vs real-money bingo apps. We receive questions from readers and players, so you can check this page to see what we answer them. We're sure it will be an informative and useful read.
Playing Bingo on Native Mobile Apps or on Mobile Sites?
Compatibility: While there are a host of mobile apps developed for iOS, other devices can't boast the same. One reason is that there is such a variety of handsets running on Android, that app development is hard. Different resolution is just one of the challenges in this case. We must consider also that there are many Windows and Blackberry phones. For all the users of non-iOS smartphones and tablets, mobile sites developed in HTML5 are the solution. That's an advantage of the web-based apps.
Security: Many mobile bingo apps ask access to your phone's contacts, ID, or calendar. The purpose is clear – higher efficiency. In this way, you can easily share photos in the app, or update your friends. On the other hand, mobile sites can be discreet, so if you want privacy, that's the better solution.
Games Variety: Mobile apps download with a sackful of games, even those that you don't care about and which you'll never play. Web apps, that you play in the browser of your phone, are just like a website. You'll open only the games you are interested in. No memory loss, no slowdowns.
Payment: If you want to play bingo, then surely you want to win in the process. Deposits and withdrawals are essential for that. Most apps take deposits, but you can rarely withdraw from them. Bingo mobile sites will take your deposits and will let you withdraw just as ordinary websites will.
The Best Bingo App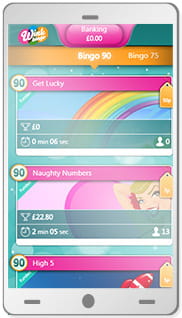 Wink Bingo offer an especially developed app for all iOS devices. You can get it easily on the Apple App Store. Although Android users don't get that, the operator still has an excellent offer for them. The best part comes after you sign up. Our readers get a custom-made, enhanced welcome bonus. You simply fill in bonus code BEST and get £55 as a warm welcome. The app is designed in the same way as the desktop version for more convenience. The best games offered by Wink are available on their mobile app, too. You can play Bingo 90, and the 75-ball variant. There are also six amazing mobile slots that have been added exclusively for mobile players. Another gorgeous thing is you can deposit via PayPal in the app. Now that's what we call a complete offer!
The Top Bingo Mobile Sites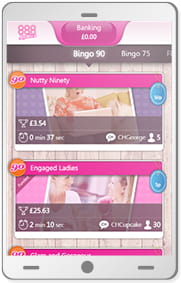 888ladies, along with offering a great native app for iOS players, do have an excellent mobile site, where Android users can play. What you should not forget is that using our link, you will get a great welcome bonus. First, you may use the 3 days of completely free bingo. All newbies are invited to it. And then, when you've taken a good look around, you can put down a simple tenner and enjoy £50 in bingo bonus funds. So, you'll have £50 in total to play with. And with so many rooms of 90- and 75-ball bingo open for mobile players, there's hardly a thing to worry about. You can have great fun on the go. All the promotions are valid just as on the regular website. The huge jackpots and the awesome slot games (if you are into online slots make sure to visit slots.info the best online slots website I know) are a wonderful way to while away time during your tedious commute, or while waiting for your darling children to come out after school.
Costa Bingo has a wonderful mobile site that offers some exclusive treats for players on the move. When you sign up, you will be eligible for a completely free welcome bonus of £5. You can use that to play both Bingo 90 and 75-ball on your phone, tablet or phablet.
How to Choose between Free and Real-Money Bingo Apps
As with all games, some bingo mobile apps are free to get and play, while others are free to get but you can win real money on them. Understandably, you will spend real money, too. We will present you some examples of both categories. As far as free-to-play apps are concerned, you must be aware that bingo operators rarely offer such. Whenever they feature free games, those are part of the regular offer and are available for funded players from time to time only. See our picks below.
Free Mobile Bingo Apps
Mecca Bingo
X Factor Bingo
Free bingo for Newbies
Guaranteed jackpots
Mecca
If you have an account with Mecca and have already used their welcome gift, here is a free app to play as much as you wish. Bin-glo is a game developed for players with taste. It's free, both to download and to play. Get it on your iPad or iPhone and enjoy popping bubble-like numbers glowing on your card. 15 levels, a leaderboard, achievements and share buttons to Facebook and Twitter. Time runs out as Shadow comes. Pop the bubbles and win.
Bingo Blitz is the top-searched free app in both Google Play and the App Store. Its innovative aspect is that a 75-ball bingo game is fortified with features of arcade games. Players enjoy power-ups, they collect items, or achievements and all that unlocks more rewards.
Real-Money Bingo Apps
Gala Bingo
Coronation Street Bingo
WWTBAM Bingo
Coconut Island Bingo 50
Gala
Gala Bingo is amazing and they've brought their best to the native app. All iOS handsets users get it free and may play 'Lucky Numbers Bingo' or the 'Rainbow Riches Bingo' game on their mobiles. The other exclusive offer? Why, good old Corrie! Now you can play Coronation Street Bingo on the go. In addition to that, Gala's fun variant of 50-ball bingo, Coconut Island, is also on offer. Mobile players benefit a lot with it, as special audio effects are on.
Sky Bingo mobile apps are available for both iOS and Android, but of course, the Android users will need to go the longer way to get it. The game offer includes 90-, 75- and 80-ball bingo, plus Speed bingo version. Sky made it possible for all their games to appear on your mobile account, including DOND Bingo, WWTBAM and Lucky Numbers – great favourites with players.
Foxy Bingo offers some great treatment to all mobile players. Up to £90 on your first tenner plus 10 free spins, and more money to come after your second and third deposits, a total maximum of £350 to enhance your playtime with. The Bingo 90 and 75-ball games are there to enjoy in over 40 rooms.
Briefly on Mobile Bonuses
Bingo players love bonuses! The more, the better! Mobile bingo apps and websites reward their customers just like ordinary sites do. Some operators offer special bonuses for mobile users only, but most apply the regular ones to their offers on the go. On the one hand, this wouldn't make you feel special when you're mobile. Yet, it will provide you with a sense of fairness across the platforms, especially if you're looking for a seamless transition. On the other hand, imagine mobile bingo didn't have any bonuses at all. A definite advantage of playing bingo on your mobile is that the bonuses are close at hand and even when you don't have time to play on your desktop, you can use them. If you need help picking the right bonus for you check this Website dedicated to the best bingo bonuses.
Did You Know?
We receive questions from our readers and regular players. Some of them can get in the FAQ-category, while some show more general or technical curiosity. Send us your questions and never fear they sound too simple or too complex. We'll answer all.
What happens if I change my device?
No worries. All your details and progress will be stored in your account. If you use an app, you simply need to download it again and log in. If you used the web-based app, open the site and sign in. That's it.
Why the Android app download is so complicated?
Google has decided against including real-money gambling apps in its store. True, bingo represents perhaps the lightest form of gambling, and yet it stays out of the Google Play. Anyway, the QR codes that operators provide work very well, and are completely secure. You can always use the web-based app, of course.
What is a hybrid app?
We have all heard of native and web apps. The hybrid apps represent the third group. Also known as wrappers, they are developed in HTML5 like the web apps, but are 'wrapped' in a thin native container providing access to the native platform features as the native apps use. They can be downloaded from an app store, but open in a browser.