Harrys Bingo Mobile Review: Highlights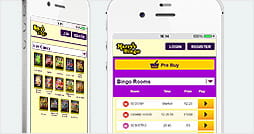 View Our Gallery > With so many bingo rooms flooding the market, Harrys continues to offer for mobile all the well-known features and treats they have on their online platform. A free welcome gift, cash bonuses and three variants of bingo: that's what you get on Harrys bingo mobile site.
Join Harrys Bingo on your mobile and try the games with £15 free!
Harrys Bingo Mobile: A Basic How-to
All bingo lovers owning mobile devices can enjoy the offers and bonuses that come so profusely at Harrys. To start off your journey, you need to follow several simple and easy steps. Most probably, you already know them, but just to be on the safe side, you can check them below:
Take our link to Harrys mobile site.
Bookmark it to your Home screen.
Sign up as a new player.
Get £15 free to test the site.
Deposit £10 and play with £50.
Harrys Bingo Bonus
All users, including those playing on mobile, are in for the £15 free on sign up. Then, the first-deposit bonus is 400%, so when you put down £10, you will start playing with £50. Each deposit you make at Harrys will bring you a new bonus. Up to 450% in bingo bucks or up to 150% cash bonus.
Take a Look at Harrys Bingo Mobile
Let's peek into what Harrys mobile site looks like. We have chosen to show you the registration form. You can see it requires only basic details that could be entered in less than 5 minutes. You also see the New Games lobby, and check the amazing slots available. The bingo lobby looks somewhat peculiar, with a neat list view. And, of course, the very landing page of this merry site.
Bingo Games to Play on Harrys Mobile Site
Harrys offers 90-, 75- and 80-ball bingo and they are all featured on the mobile platform. There are coverall jackpot games in all three variants, as well as special 75/80 winning patterns. The chat games, one of Harrys popular features, are not integrated in the platform yet. The brand is working towards changing that, however.
Can Harrys Mobile Bingo Be Installed on My Device?
As Harrys bingo offer their mobile service to all OS, the answer to the question above is 'Yes.' Still, we need to set all souls at peace. So, starting with Android, you can use all Android OS versions after Honeycomb, that is Ice Cream Sandwich, Jelly Bean and KitKat. Some devices are the HTC Evo family, the HTC One group, and HTC Desire with all its variations. LG Optimus are, of course, in the group, as well as all the Sony Xperia handsets. Motorola Moto G, Motorola Moto E and the Huawei Ascend are compatible, too. Going to iOS, here is the list: iPhone 4, iPhone 4s, iPhone 5c, iPhone 5s, iPad 3, iPad 4, iPad 5. You can also play on a Windows phone, such as Nokia Lumia, or on a BlackBerry device, e.g. BlackBerry PlayBook, BlackBerry Q10 or BlackBerry Z10.
Harrys Bingo – Some Facts
Harrys logo

Online since

2007

Network

Super Bingo Network

Software

Cozy Games

Licensed

UK Gambling Commission

Mobile bingo

HTML5

Mobile games

47, no download

Website

www.harrysbingo.co.uk
Harrys is the bingo operator that started the Super Bingo Network in 2007. In such a long time, they have turned to one of the preferred online bingo providers and not a small part of that is due to the amazing software they use, that of Cozy Games. Apart from the unmatched welcome offer and the constant re-deposit deals, or the chance to get cash bonuses, the mobile bingo sites running on that software are among the best working ones around the Internet. They are designed and developed in such a way as to offer the same experience to mobile users of any device, irrespective of the operating system or the screen resolution. The marketing brand behind Harrys bingo has been implementing this successful strategy for years and the numbers speak greatly in their favour. Bonuses can be used in all games that offer bonus funds play, not just bingo. Loyalty points are earned for all wagering, except on game offering 50/50 winning chances. All LPs can be traded for cash. In short, an operator you can have mighty fun with.
FAQs
Is it legal to play bingo on mobile?
When the operator holds a valid remote gambling licence, it is completely legal. The term 'remote' means gambling in which players participate through any electronic technology, including the Internet, TV, radio, mobile handsets, etc.
How many bingo games are offered for mobile play?
Operators decide that, based on the software they use. Normally, an operator will provide all the available online bingo games for their mobile bingo app.
How do I choose between mobile bingo apps?
You need to consider your playing patterns. For instance, do you play various games, or just a couple? Research the operators. Better reputation normally means better offers.
Users' Reviews
I play on Harrys Bingo both on my laptop and my BlackBerry PlayBook, and must say that both platforms work perfectly. I don't feel the transition or any inconvenience. The only bad thing is there is no chat on mobile. Comment by: Janet Sawyer
The best thing about Harrys on mobile is the bonuses – they all apply. Every week I get a new promo. I try to limit my playing to twice a week, so I choose a different bonus offer each time. They are plenty, no worries. Great entertainment. Comment by: Tania Schultz
If you liked Harrys Bingo mobile review, why don't you look below?