Bingo Street: Overview of The Mobile Platform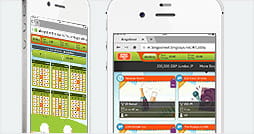 Gallery > This is another of the Joy of Bingo sites under the 888 brand. The mobile offering is excellent, all the regular bonuses apply and the selection of games, albeit limited in their bingo part, give you awesome chances to win good bonus amounts. All deposits will be rewarded.
Reaching the Street When You're Out
Of course, the most natural location to play on Bingo Street is the street proper. There are three ways to join the operator and we've included a simple list of things to do in order to open your free account and secure your welcome bonus successfully.
On your device visit Bingo Street from our link.
You can add a bookmark for fast future login.
Alternatively, scan the QR code or send an SMS to get the app.
Open your account and make your first deposit.
Start playing with the generous welcome bonus.
Is There a Special Bonus When You Are Mobile?
All new players, including those who join through their phones, will be eligible for the first-deposit bonus, which is a 200% match on your own funds. The maximum you can get is £200. From then on, a 50% reload bonus will be credited to you every time you fund your account with a tenner or more.
Take a Look at the Curious Images from the Street
It is good to have an idea what your chosen website will look like when it opens in your mobile browser. The web app of Bingo Street is very good, navigation is simple and the site is rich in info. Below you can see the general lobby, a room where 75-ball games are played, one of the promotions at the time of taking the shot and the popular Zodiac slot open through our Android tablet.
Which Games Are Available to You?
Practically, the best. The operator has made sure that you are offered the top selection of slots, both video and progressive, table games and scratch cards, in addition to the two most preferred bingo variations. 75 ball is available as High 5, where the central square is not "free", and as pattern games. The 90-ball type can be played in plenty of rooms.
Playing on Your Device: Check the List
The mobile offering is available to Android phones and tablets working on 4.1. or newer version. It also loads on iPhones and iPads that run on iOS 6 or later. Here is a brief list of devices that can be used: Samsung Galaxy Light, Samsung Galaxy Exhibit, Samsung Galaxy Nexus, Samsung Galaxy Victory 4G LTE, Lenovo A319, Lenovo S90, S60, S580, Lenovo P70, Lenovo VIBE Z2, VIBE Z2 Pro, VIBE Z, VIBE X2, VIBE X, Motorola Moto X, Moto G, DROID Maxx, DROID Mini, LG G2, G3, G4, LG Optimus G Pro, LG Transpyre, LG D820, LG G Flex, LG Volt, LG G Vista, LG G Stylo, LG Ultimate 2, Huawei P8 Lite, Huawei Fusion 2, Huawei Ascend Y, Huawei Summit, HTC One M9, M8, M7, E8, HTC One remix, HTC One max, HTC One mini, HTC One SV, HTC Desire EYE, HTC EVO, Droid DNA, Droid Incredible.
Peeking Behind the Name: Information about the Business
Wink logo

Operated by

Cassava Enterprises Ltd

Software

Dragonfish

Network

Joy of Bingo

UK Licence No

000-039028-R-319297-0016

Mobile

HTML5

Mobile bingo

90/75-ball

Website

https://www.bingostreet.com
The Joy of Bingo network is an amazing place to belong. The sites are joined in the Joy Gem Club VIP programme and so, it doesn't matter on which site you play, the points you collect are valid across the entire network. There are 7 sites on the network and they all offer something unique in their platforms. There are also special games and rooms where you can win exclusively large prizes because the amounts have been accumulated throughout the entire network. Apart from that, Bingo Street shows every sign of a good business. The entire website is encrypted using the latest technology. That makes you perfectly safe when browsing and sharing details with the operator. Their customer service is available non-stop. You can deposit using a variety of payment methods, PayPal included. The bonuses you will enjoy are practically endless. What's not to like in that? And the mobile experience is quite the good thing, too!
FAQs
It says in Bingo Street that it works on Android phones only. How come?
In fact, we tested the site on an Android tablet. Don't worry, you can load it, too. The reason it's missing on the site probably is that someone has forgotten to update that particular section.
I want to be a different player on my mobile. Can I change my user name there?
I'm sure you need to contact Support with that enquiry. This is pretty specific, and they are the people who'd know the answer and who can give you a good tip on what to do.
Users' Reviews
I am a member of the Joy Gem Club and play regularly. I even go to VIP events, in short, I try to use all the perks from my passion. Playing on mobile can be limiting if you care for community. In terms of games, mobile bingo rocks. Comment by: S. Wilson
I joined Bingo Street by chance. I like the site a lot because it offers my favourite Bingo 90 in so many rooms and with so many prizes. I play penny bingo all the time. Tickets are so affordable that I need nothing else. 90 balls non-stop for me. Comment by: E. M. King
Hungry for more expert reviews after Bingo Street for mobile?